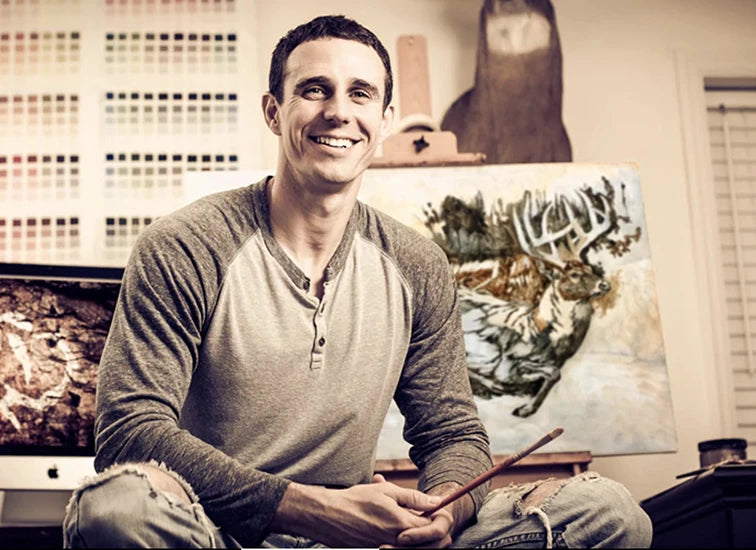 "The health of the eye seems to demand a horizon."
–Emerson
life on the farm
I'm Ryan Kirby, and I've been drawing and painting wildlife since 1989. My interest in art started in Illinois, where my brother and I were the direct beneficiaries of growing up on a family farm. Dad farmed corn and soybeans with a little livestock in the mix, and mom was the postmaster in our small town of Hamilton, tucked along the Mississippi River.
Baseball and Bobbers
We fished farm ponds with Zebco reels and bobbers baited with earthworms dug out from underneath a wet hay bale. We toted smooth bore shotguns through the ditches and draws of Midwest farm country, hunting deer, turkey and small game.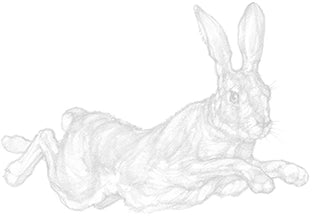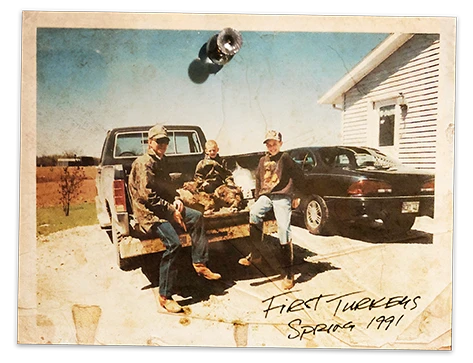 A Fire is Lit
When I was 11 years old I shot my first wild turkey, a jake, and I was hooked. Nothing excited me more than spring turkey hunting, and I left fishing and baseball behind to chase tailfans each spring. A year later, dad bought me my first bow and arrow and my horizon grew to include the magic of the Midwest rut. Little did I know, this early passion for hunting would set the foundation for my life's work.

My First Art Mentor
I had a tremendous art teacher throughout Middle and High School named Steve Mullins. He taught me the fundamentals of drawing, perspective and shading, and encouraged all his students to enter the Junior Duck Stamp Contest. With a few years of his coaching and critique, and some growth on my part, I won the national Junior Duck Stamp Contest at the age of 16 with a pair of Wood Ducks.

"
This opened my eyes to the possibility of art as a career, and I began to look towards a horizon that was larger than the row crops and livestock that I had always known.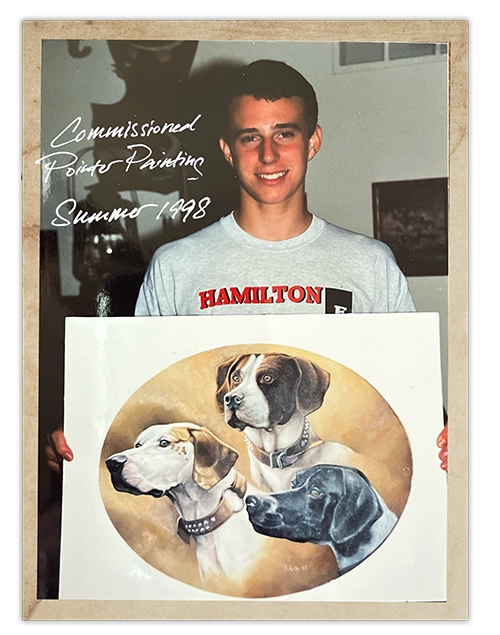 Bales and Brushes
I shot trap with some buddies every Thursday night at a local gun club, and as more people began to notice my work, I was commissioned to paint their bird dogs. Proud dog owners would bring in 5"x7" glossy photos after their round of shooting ended and a round or two of beers commenced. They'd tell hunting stories and brag on their dog's latest retrieve, leaving the photos with me as reference for a painting. I painted pointers, labs and even a Drahthaar. My summer work consisted of bailing hay and painting hunting dogs – an odd combination, but one that suited me just fine.

A Career in Conservation
I attended Bradley University and studied Graphic Design and Multimedia in college. During those years I spent less time in the woods, but more time learning the fundamentals of design and the technology that was used to create it. After graduating, I took a job at the National Wild Turkey Federation's headquarters in Edgefield, South Carolina, as a graphic artist and illustrator. Loblolly pines and peach orchards now lined the horizon as I left Illinois farm country and headed South.

It was at the NWTF that I was exposed to the brands and people of the outdoor industry. I learned marketing, advertising and magazine publication. One of my favorite tasks was illustrating Tom Kelly's column at the end of each Turkey Call magazine. I met professional wildlife artists, writers, video producers and photographers.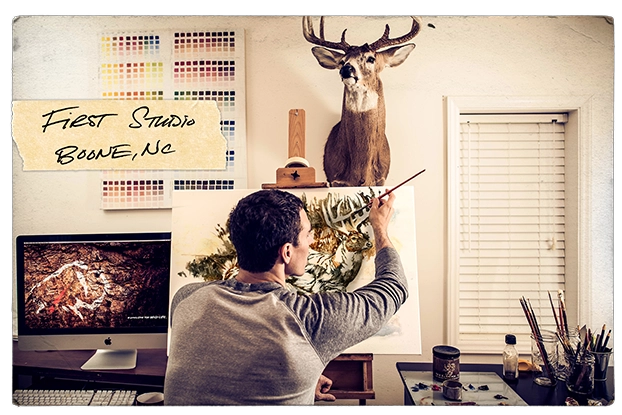 Starting Out Solo
I loved my time at the NWTF, but eventually I needed a new challenge, and once again I set out towards a new horizon. On May 10, 2012, I launched out on my own, starting Ryan Kirby Art out of a spare bedroom in my house. I was the artist and the accountant, the CEO and the custodian all at once. Just like my early days bailing hay and painting, the diversity and challenge of all these tasks suited me well. In a strange way, I felt like I could contribute more to conservation with my art than I could as a full-time employee for the organization.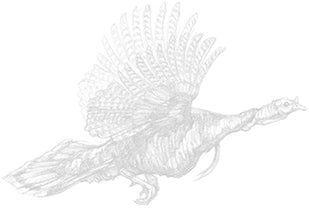 Higher Elevations
Life moved fast at this stage. My list of clients and opportunities grew. I went from illustrating the back page of magazines to painting the covers, from designing the articles to being featured in them. I began exhibiting at the Southeastern Wildlife Expo in Charleston, SC. Kim and I had been dating for years at this point and married in 2012. The following year we moved to Boone, NC, and set out to raise a family there. The flat horizon I'd always set my eyes toward was now replaced by mountains.
Family Business
Our first child, a boy named Rhett, was followed by a girl, Brooklyn, three years later. These two add a whole new dimension and meaning to our life (not to mention plenty of action to my studio). As I reflect on my own journey, I'm constantly reminded of how my life has been enriched by the outdoors, and I want the same for them. I want them to experience and appreciate the beauty of the mountains and rivers that we call home. I want them to chase their own horizon the same way that I've done my whole life.

and that's why i'm here
Artists have been telling the story of wild places and wild things for centuries. It's a concept as old as time itself. In 2013 I rebranded my business to tell this story and get back to my roots as a hunter and artist. As an artist, I've got the unique role and responsibility of bringing the outdoors…indoors. My goal is to enhance the atmosphere of the home, office or hunt camp and broaden the horizons of hunters and anglers all over the world.

Throughout the pages of this website, you'll see the culmination of my life's work, over 11,000 hours and counting.

I encourage you to check out my Original Oil Paintings; these are the pieces I'm most proud of and are the most conclusive representation of my portfolio. Our unique line of Vintage Paper Prints are engaging and educational; they're the perfect addition to hunt camp or a man cave. We've even got a new lineup of Signature Series Apparel for you to sport in the dove field or on the lake.

Regardless of the medium or the material, I take pride in everything that leaves my studio. It's my life's goal to produce work that's truly Wildly Original. And I do it for you.

ryan kirby art
awards & exhibitions
Southeastern Wildlife Exposition Featured Artist | 2023

Southeastern Wildlife Exposition | 2014, 2015, 2016, 2017, 2018, 2019, 2020, 2021, 2022

National Wild Turkey Federation's Banquet Art Package | 2014, 2015, 2016, 2018, 2019

National Wild Turkey Federation's Stamp Print Artist of the Year | 2010, 2016

Quality Deer Management Association's Banquet Art Package | 2014, 2015, 2016

Rocky Mountain Elk Foundation's Premiere Art Program | 2015

Quail Forever Artist of the Year | 2022

Pheasants Forever Artist of the Year | 2022

Cover Artist for Outdoor Life Magazine

Cover Artist for Turkey Country Magazine

Cover Artist for Fur-Fish-Game Magazine

Quality Deer Management Association's Artist of the Year | 2014, 2015

2013 Quality Deer Management Association's Banquet Art Package

Featured Work
My art has been featured in Field & Stream, Game & Fish Magazine, Garden & Gun, and Outdoor Life, and served as cover art for Outdoor Live, Fur-Fish-Game Magazine, and NWTF's Turkey Country Magazine.
In addition, you'll see my work featured at Ducks Unlimited, National Wild Turkey Federation, Pheasants Forever, Quail Forever, Rocky Mountain Elk Foundation banquets across the country.